Kittens 2015: Bonnie x Hummer
Bonnie has given birth to one wonderful baby boy on July 10th!
Proud da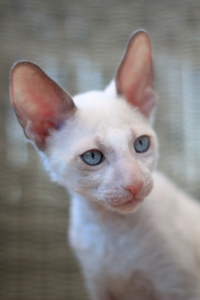 ddy is our own stud Hypnotic Hummer Made in Belgium.

Both parents were tested negative for FeLV and FIV.
Both parents tested for HCM and PKD.
Both parents have blood type A and are carriers of b.

Bonnie: Lilac and white (carries pointed)
Hummer: Seal point (carries chocolate and dilute)
– 1 lilac with white pointed male: Kathorse Darkly Dreaming Dexter (reserved)

The kitten has bloodgroup AA, Ab or B.