Grand International Champion Barça d'Or of Bedrock (2010 – 2013)
Barça was treated with diuretics and heart medicines for one and half years and sadly died of the effects of HCM at the age of 3.
Sweet dreams dear Barça friend, you fought hard but the HCM destroyed your lungs and your heart.
We still miss you every single day.
Read Barça's story below.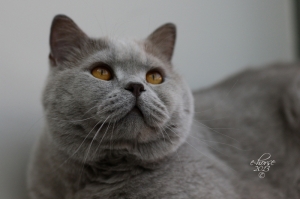 Sadly, our family at Kathorse Garden know very well what HCM means.
Our sweet British Shorthair Barça d'Or of Bedrock was 14 months old and doing great at shows – he was about to start enjoying his macholife as a breeding male.
Filled with good intentions we had our male tested for Felv, FIV and his blood group. He tested negative for both and the result of the blood typing was A.
We were of course very happy with these results. The PKD-test turned out to be negative too!
Heartbreaking however, was the diagnose that Barça had HCM. Even at the age of 14 months it was already very visible on the echo taken by specialist dr. Putcuyps.
Barça had to avoid stress, so we ended his show career.
We had him castrated ASAP and even the castration itself was dangerous for Barça's health.
Times became difficult – three times a day we gave Barça Furosemide, a diuretic to keep the fluids out of his lungs and every morning he got his Prilium "syrup" to avoid heart insufficiency.
We made sure that every single day, a member of our family was home during the morning, lunch time and evening, so that Barça would have his medicines in time.
He was still a very happy cat with the will to live on! And of course, we didn't want to loose our sweet teddybear.
Unfortunately, Barça's condition was clearly deteriorating as time passed on.
He was getting tired quickly and was often short of breath. In times of distress, he started panting.
He was still eating well, played with Nikita and us and kept on purring. He was a happy fellow, but we noticed life was getting more difficult for him.
At the age of 2,5 years, Barça suffered from a thrombosis in his hind legs and was left paralysed.
We thought we were going to loose him, but by a miracle and with a lot of will to survive, our strong boy fought through this. After 2 days he managed to wobble around the house and after a week, he was strong enough to jump on our lap and even on the table again.
We were blissful and realised very well that he had went through the eye of a needle.
A few months later we were stricken by fate again and we had to let our beautiful boy go and say goodbye forever. He was such a great cat and we didn't even get to spend 3 full years with him. This is something you wouldn't wish on anyone.
If we hadn't tested Barça for HCM, he would have fathered at least 1 or 2 litters before we would have noticed any any external changes telling us he might be sick.
His kittens would have had a major risk to be HCM patients themselves and this would have caused a lot of sadness and sorrow for the new owners of Barça's babies.
It is a difficult lesson to learn about the importance of HCM-tests, but we sincerely hope that Barça's story can make people think twice before bringing a kitten out of non tested parents into their homes and into their hearts.
An HCM-test can not give you a decisive answer about the health of your cat's heart, but without a test you're playing russian roulette.
We hope that in time all HCM positive cats can be excluded from breeding programs so that no one will ever have to go through this again.